2019 The Silfen Forum
"Is There an Antidote for the Opioid Epidemic?
Seeking a Cure for the Worst Drug Crisis in American History"
Epidemic.  Crisis.  National emergency.  
The burgeoning abuse of opioids – including prescription pain relievers, synthetic opioids such as fentanyl, and heroin – and their devastating impacts is well-documented.  The data are as shocking as they are staggering.  According to the National Institute on Drug Abuse, more than 130 people now die from opioid overdoses each day in the United States.  As a result, according to the Centers for Disease Control and Prevention, life expectancy in the U.S. is declining at rates not seen in more than a century.  How bad has it become?  In the U.S., drug overdoses in 2017 exceeded the highest-ever recorded incidences of car crash deaths (1972), HIV deaths (1995), and gun deaths (1993).  The CDC now estimates that the total economic impact of opioid misuse in the U.S. is $78.5 billion a year.  Hospitals and healthcare providers, social service agencies, the criminal justice system, and other resources are being severely stressed.  Families and entire communities are being shattered.  And the problem is not limited to the U.S.: a recent report indicated that the rate of opioid use is increasing globally.
Is there an antidote for the opioid epidemic, the worst drug crisis in American history?  What brought us to this point?  What is now being done, and what more can and should be done?  Join Penn President Amy Gutmann and a panel of distinguished guests and Penn experts for a wide-ranging discussion of the opioid crisis. 
2019 Panelists
The panelists of this David & Lyn Silfen University Forum include Amy Gutmann, Hon. Joseph R. Biden Jr., Hon. John Ellis "Jeb" Bush Sr., Mayor Jim Kenney, Hon. Bertha Madras and Jeanmarie Perrone. Please see their biographies below.
Amy Gutmann, moderator
President and Christopher H. Browne Professor of Political Science in the School of Arts and Sciences and Professor of Communication in the Annenberg School for Communication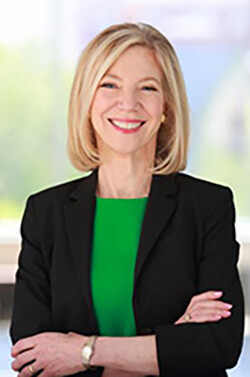 Amy Gutmann is the 8th President of the University of Pennsylvania and the Christopher H. Browne Professor of Political Science and Professor in the Annenberg School for Communication. She has been widely recognized for increasing Penn's diversity, interdisciplinary excellence, and engagement both locally and globally.
The blueprint of success, Penn Compact 2020, focuses on bold initiatives to strengthen the University through inclusion, innovation, and impact. Under her leadership since 2004, Penn has become the nation's largest university offering an all-grant financial aid policy to meet the full need of undergraduate students, and has more than doubled the number of students from low-income, middle-income, and first-generation college families. Dr. Gutmann has led the creation of an innovation ecosystem, Pennovation Works, on Penn's vibrantly expanded campus, moving research discoveries from Penn's 12 schools into the marketplace.
Penn has expanded civic-minded partnerships with Philadelphia public schools including the Penn Alexander School, a National Blue Ribbon school, along with programmatic support for hundreds of other local public schools.
The 2017 opening of the Penn Biden Center in D.C., the 2016 opening of the Perry World House on campus and the 2015 opening of the Penn Wharton China Center in Beijing mark major new sites for university-wide initiatives that promote global solutions to challenging problems, bringing the world to Penn and Penn to the world.
She has continued pathbreaking scholarship as Penn's president, publishing her sixteenth book in 2012, The Spirit of Compromise: Why Governing Demands It and Campaigning Undermines It (with Dennis Thompson). From 2009 to 2017 Dr. Gutmann chaired President Barack Obama's Presidential Commission for the Study of Bioethical Issues, publishing ten reports on pressing issues ranging from the ethics of neuroscience and synthetic biology to public health preparedness, human subject research, genomic privacy, and bioethics education and deliberation.
Hon. Joseph R. Biden Jr.
47th Vice President of the United States, Benjamin Franklin Presidential Practice professor at the University of Pennsylvania
Joseph Robinette Biden, Jr., represented Delaware for 36 years in the U.S. Senate before becoming the 47th Vice President of the United States.
Joseph Robinette Biden, Jr., was born November 20, 1942, in Scranton, Pennsylvania, the first of four siblings. In 1953, the Biden family moved from Pennsylvania to Claymont, Delaware. He graduated from the University of Delaware and Syracuse Law School and served on the New Castle County Council. Then, at age 29, he became one of the youngest people ever elected to the United States Senate.
Just weeks after the election, tragedy struck the Biden family when then Senator-elect Biden's wife, Neilia, and their one-year-old daughter, Naomi, died and his 2 sons were injured in an auto accident. Vice President Biden was sworn into the U.S. Senate at his sons' hospital bedside and began commuting to Washington every day by train, a practice he maintained throughout his career in the Senate.
In 1977, Vice President Biden married Jill Jacobs. Jill Biden, who holds a Doctorate in Education, is a life-long educator and currently teaches at a community college in Northern Virginia. The Vice President's son, Beau, was Delaware's Attorney General from 2007-2015 and a Major in the 261st Signal Brigade of the Delaware National Guard. He was deployed to Iraq in 2008-2009. Beau passed away in 2015 after battling brain cancer with the same integrity, courage, and strength he demonstrated every day of his life. The Vice President's second son, Hunter, is an attorney who manages a private equity firm in Washington, D.C. His daughter Ashley is a social worker and Executive Director of the Delaware Center for Justice. Vice President Biden has five grandchildren: Naomi, Finnegan, Roberta Mabel ("Maisy"), Natalie, and Robert Hunter.
As a Senator from Delaware for 36 years, Vice President Biden established himself as a leader in facing some of our nation's most important domestic and international challenges. As Chairman or Ranking Member of the Senate Judiciary Committee for 17 years, then-Senator Biden was widely recognized for his work on criminal justice issues, including the landmark 1994 Crime Act and the Violence Against Women Act. As Chairman or Ranking Member of the Senate Foreign Relations Committee for 12 years, then-Senator Biden played a pivotal role in shaping U.S. foreign policy. He has been at the forefront of issues and legislation related to terrorism, weapons of mass destruction, post-Cold War Europe, the Middle East, and Southwest Asia.
As the 47th Vice President of the United States, Joe Biden continued his leadership on important issues facing the nation and represented America abroad, traveling over 1.2 million miles to more than 50 countries. Vice President Biden convened sessions of the President's Cabinet, led interagency efforts, and worked with Congress in his fight to raise the living standards of middle class Americans, reduce gun violence, address violence against women, and end cancer as we know it. Since leaving the White House in January, Vice President Biden continues his legacy of expanding opportunity for all, both in the United States and abroad, with the creation of the Biden Foundation, the Biden Cancer Initiative, the Penn Biden Center for Diplomacy and Global Engagement at the University of Pennsylvania, and the Biden Institute at the University of Delaware. Through these non-profit organizations, Vice President Biden and Dr. Biden will develop programs designed to advance smart policies, convene experts and world leaders on the issues they care most about, and impact the national debate about how America can continue to lead in the 21st century. In addition, early this summer, Vice President Biden announced the formation of his political action committee, "American Possibilities," which will allow him to continue to support Democratic candidates and causes across the country.
Hon. John Ellis "Jeb" Bush Sr.
43rd Governor of Florida, Presidential Practice professor at the University of Pennsylvania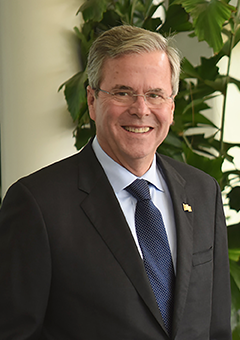 Jeb Bush was elected the 43rd governor of the state of Florida on November 3, 1998, and was re-elected by a wide margin in 2002. His second term as governor ended in January 2007.
Bush earned a bachelor's degree in Latin American Studies from the University of Texas at Austin and moved to Florida in 1981. With partner Armando Codina, he started a small real estate development company, which grew to become the largest, full-service commercial real estate company in South Florida.
Bush served as Florida's secretary of commerce under Bob Martinez, Florida's 40th governor. As secretary of commerce, he promoted Florida's business climate worldwide. Following an unsuccessful bid for governor in 1994, Bush founded the nonprofit Foundation for Florida's Future, which joined forces with the Urban League of Greater Miami to establish one of the state's first charter schools. He also co-authored Profiles in Character, a book profiling 14 of Florida's civic heroes– people making a difference without claiming a single news headline.
After his election, Bush focused on reforming education. Florida students have made the greatest gains in achievement and Florida is one of a handful of states that have narrowed the achievement gap. In addition, Bush cut taxes every year during his tenure as governor and Florida led the nation in job growth seven out of eight years. Bush put Florida on the forefront of consumer healthcare advances by signing Medicaid reform legislation "Empowered Care" in June 2006.
Before running for the Republican presidential nomination in June of 2015, Bush led his own successful consulting business, Jeb Bush and Associates, whose clients ranged from small technology start-ups to well-known Fortune 500 companies. He currently serves as the chairman of the Foundation for Excellence in Education, a national foundation focused on education reform, and was the co-chairman of the Barbara Bush Foundation for Family Literacy and chair of the National Constitution Center. He is the co-author of Immigration Wars: Forging an American Solution (March 2013) and author of Reply All (October 2015).
Bush is the son of former President George H.W. Bush and Barbara Bush. He lives in Miami with his wife Columba, and they have three children and four grandchildren.
Hon. James F. Kenney
Mayor of Philadelphia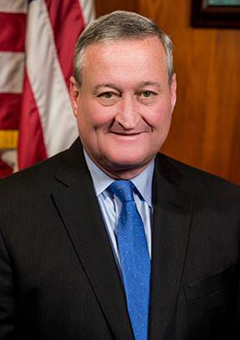 A lifelong city resident, Mayor Jim Kenney grew up the oldest of four in a South Philadelphia rowhouse neighborhood. His father, a firefighter, and his mother, a homemaker, both worked second jobs to put Jim and his three siblings through parochial school. In high school, Jim delivered the paper in the morning and washed dishes after school, earning his first union card at 17. After graduating from St. Joe's Prep, Jim worked his way through La Salle University and became the first in his family to graduate from college.
Jim was elected in 1991 to serve as a Democratic City Councilman At-Large. In City Council, Jim stood up for Philadelphia's working families—fighting for a real living wage, increased funding for public education, and community policing measures. A proud progressive, Jim also led the way on broader protections for LGBTQ Philadelphians, marijuana decriminalization, and a more sensible immigration policy by ending ICE holds that tear families apart.
On January 4, 2016, Jim was sworn in as the 99th Mayor of Philadelphia. In his inaugural address, the Mayor laid out a vision for an accessible, accountable government that works for everyone in every neighborhood. To make that vision a reality, the Mayor is committed to expanding access to quality pre-k for high-need children, implementing the community school model in Philadelphia, eliminating unconstitutional stop and frisks and investing in our commercial corridors.
Hon. Bertha Madras
Professor of Psychobiology, Harvard Medical School; Former Deputy Director for Demand Reduction, White House Office of National Drug Control Policy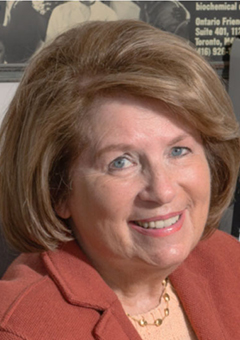 Bertha Madras, PhD is Professor of Psychobiology, Harvard Medical School (33 years), based at McLean Hospital, and is cross-appointed at the Massachusetts General Hospital. Her research focuses on neurobiology, brain imaging, and medications development (19 U.S., 27 international patents). She has written or edited over 200 manuscripts, essays, articles, monographs and books, including "The Cell Biology of Addiction", and "Effects of Drug Abuse on the Human Nervous System". In public service, she served as Deputy Director for Demand Reduction in the White House Office of National Drug Control Policy, a presidential appointment confirmed by U.S. Senate with unanimous consent. The World Health Organization commissioned her to write a monograph "Update of Cannabis and its Medical Use" and was the sole expert witness for U.S. Dept of Justice in landmark federal court case in marijuana schedules.
Dr. Madras recently served as a panelist at the Vatican Pontifical Academy of Sciences. In 2017, she was appointed as one of six members of the President's Commission on Combating Drug Addiction and the Opioid Crisis and was asked by the Chair, Governor Christie, to shepherd and write the final Commission report. She currently is a member of the National Academy of Medicine Collaborative on the Opioid Crisis. In service to the public, she directed the development of a Boston, Museum of Science exhibit and CD (licensed by Disney). She is the recipient of an NIH MERIT award, NIDA Public Service Award, and others.
Jeanmarie Perrone
Professor of Emergency Medicine and Director of Medical Toxicology, Perelman School of Medicine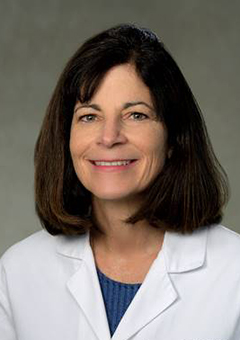 Dr. Jeanmarie Perrone is a Professor in the Department of Emergency Medicine at the University of Pennsylvania and Director of Addiction Medicine Initiatives from the ED. She has led numerous investigations in opioid stewardship and has advocated at the state and national level for emergency treatment for Opioid Use Disorder; her work has been featured in prominent media including the New York Times, USA Today and National Public Radio. She has served on the Philadelphia Mayor's Task Force, the PA State Opioid Task force, the National Quality Forum, and advisory committees with the CDC and FDA to address judicious opioid prescribing. She has won numerous awards for education and mentorship, and is triple boarded in emergency medicine, medical toxicology and addiction medicine. She was inducted into the Penn Academy of Master Clinicians in 2015.