2018 The Silfen Forum
"People and Policy Adrift: A 21st Century Framework for Asylum Seekers, Refugees, and Immigration Policy"
Twenty people are forcibly displaced every minute as a result of conflict or persecution.
Some 65.6 million people around the globe have been forced from home, a level not seen since World War II. Among them are nearly 22.5 million refugees, over half of whom are under the age of 18. As daunting as the worldwide refugee crisis is, it is just one of a host of contentious issues surrounding immigration and the global movement of people in the 21st century.
Governments and societies grapple with fundamental questions about how to balance longstanding and cherished commitments to human rights and individual dignity with equally compelling questions of border protection, national security, economic development, and the equitable allocation of resources and public services.
In the United States, these concerns are manifest in fractious national debates about border walls, travel bans, and the protections afforded to children of undocumented immigrants. Indeed, in January of this year, the U.S. government shut down due in large measure to a Senate impasse over the Deferred Action for Childhood Arrivals program. In Europe, a rising tide of reactionary and populist movements draws energy from public discontent with swelling numbers of refugees and the growing presence of immigrant communities.
How should national and international institutions approach the challenging policy questions raised by refugees, asylum seekers, and children of illegal immigrants? How can a diverse world recognize the importance of economic growth and development and security for all countries, along with the human rights and dignity of immigrants? Where should U.S. immigration policy go from here?
Join Penn President Amy Gutmann and a distinguished panel of experts for a wide-ranging discussion of immigration policy and ways to protect and advance the cause of human rights during a challenging and dynamic period for nations around the world and the international order.
2018 Panelists
The panelists of this David & Lyn Silfen University Forum include Amy Gutmann, Hon. Joseph R. Biden Jr., Hon. John Ellis "Jeb" Bush Sr., Michael Doyle, Dau Jok and Anne C. Richard. Please see their biographies below.
Amy Gutmann, moderator
President and Christopher H. Browne Professor of Political Science in the School of Arts and Sciences and Professor of Communication in the Annenberg School for Communication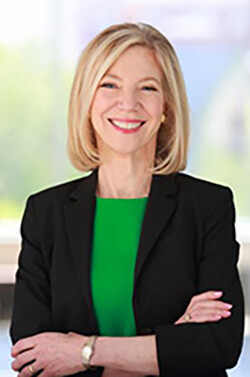 Amy Gutmann is the 8th President of the University of Pennsylvania and the Christopher H. Browne Professor of Political Science and Professor in the Annenberg School for Communication. She has been widely recognized for increasing Penn's diversity, interdisciplinary excellence, and engagement both locally and globally.
The blueprint of success, Penn Compact 2020, focuses on bold initiatives to strengthen the University through inclusion, innovation, and impact. Under her leadership since 2004, Penn has become the nation's largest university offering an all-grant financial aid policy to meet the full need of undergraduate students, and has more than doubled the number of students from low-income, middle-income, and first-generation college families. Dr. Gutmann has led the creation of an innovation ecosystem, Pennovation Works, on Penn's vibrantly expanded campus, moving research discoveries from Penn's 12 schools into the marketplace.
Penn has expanded civic-minded partnerships with Philadelphia public schools including the Penn Alexander School, a National Blue Ribbon school, along with programmatic support for hundreds of other local public schools.
The 2017 opening of the Penn Biden Center in D.C., the 2016 opening of the Perry World House on campus and the 2015 opening of the Penn Wharton China Center in Beijing mark major new sites for university-wide initiatives that promote global solutions to challenging problems, bringing the world to Penn and Penn to the world.
She has continued pathbreaking scholarship as Penn's president, publishing her sixteenth book in 2012, The Spirit of Compromise: Why Governing Demands It and Campaigning Undermines It (with Dennis Thompson). From 2009 to 2017 Dr. Gutmann chaired President Barack Obama's Presidential Commission for the Study of Bioethical Issues, publishing ten reports on pressing issues ranging from the ethics of neuroscience and synthetic biology to public health preparedness, human subject research, genomic privacy, and bioethics education and deliberation.
Hon. Joseph R. Biden Jr.
47th Vice President of the United States, Benjamin Franklin Presidential Practice professor at the University of Pennsylvania
Joseph Robinette Biden, Jr., represented Delaware for 36 years in the U.S. Senate before becoming the 47th Vice President of the United States.
Joseph Robinette Biden, Jr., was born November 20, 1942, in Scranton, Pennsylvania, the first of four siblings. In 1953, the Biden family moved from Pennsylvania to Claymont, Delaware. He graduated from the University of Delaware and Syracuse Law School and served on the New Castle County Council. Then, at age 29, he became one of the youngest people ever elected to the United States Senate.
Just weeks after the election, tragedy struck the Biden family when then Senator-elect Biden's wife, Neilia, and their one-year-old daughter, Naomi, died and his 2 sons were injured in an auto accident. Vice President Biden was sworn into the U.S. Senate at his sons' hospital bedside and began commuting to Washington every day by train, a practice he maintained throughout his career in the Senate.
In 1977, Vice President Biden married Jill Jacobs. Jill Biden, who holds a Doctorate in Education, is a life-long educator and currently teaches at a community college in Northern Virginia. The Vice President's son, Beau, was Delaware's Attorney General from 2007-2015 and a Major in the 261st Signal Brigade of the Delaware National Guard. He was deployed to Iraq in 2008-2009. Beau passed away in 2015 after battling brain cancer with the same integrity, courage, and strength he demonstrated every day of his life. The Vice President's second son, Hunter, is an attorney who manages a private equity firm in Washington, D.C. His daughter Ashley is a social worker and Executive Director of the Delaware Center for Justice. Vice President Biden has five grandchildren: Naomi, Finnegan, Roberta Mabel ("Maisy"), Natalie, and Robert Hunter.
As a Senator from Delaware for 36 years, Vice President Biden established himself as a leader in facing some of our nation's most important domestic and international challenges. As Chairman or Ranking Member of the Senate Judiciary Committee for 17 years, then-Senator Biden was widely recognized for his work on criminal justice issues, including the landmark 1994 Crime Act and the Violence Against Women Act. As Chairman or Ranking Member of the Senate Foreign Relations Committee for 12 years, then-Senator Biden played a pivotal role in shaping U.S. foreign policy. He has been at the forefront of issues and legislation related to terrorism, weapons of mass destruction, post-Cold War Europe, the Middle East, and Southwest Asia.
As the 47th Vice President of the United States, Joe Biden continued his leadership on important issues facing the nation and represented America abroad, traveling over 1.2 million miles to more than 50 countries. Vice President Biden convened sessions of the President's Cabinet, led interagency efforts, and worked with Congress in his fight to raise the living standards of middle class Americans, reduce gun violence, address violence against women, and end cancer as we know it. Since leaving the White House in January, Vice President Biden continues his legacy of expanding opportunity for all, both in the United States and abroad, with the creation of the Biden Foundation, the Biden Cancer Initiative, the Penn Biden Center for Diplomacy and Global Engagement at the University of Pennsylvania, and the Biden Institute at the University of Delaware. Through these non-profit organizations, Vice President Biden and Dr. Biden will develop programs designed to advance smart policies, convene experts and world leaders on the issues they care most about, and impact the national debate about how America can continue to lead in the 21st century. In addition, early this summer, Vice President Biden announced the formation of his political action committee, "American Possibilities," which will allow him to continue to support Democratic candidates and causes across the country.
Hon. John Ellis "Jeb" Bush Sr.
43rd Governor of Florida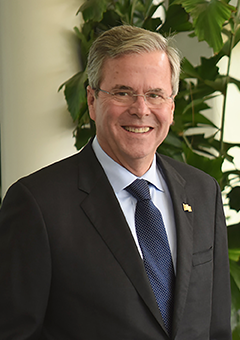 Jeb Bush was elected the 43rd governor of the state of Florida on November 3, 1998, and was re-elected by a wide margin in 2002. His second term as governor ended in January 2007.
Bush earned a bachelor's degree in Latin American Studies from the University of Texas at Austin and moved to Florida in 1981. With partner Armando Codina, he started a small real estate development company, which grew to become the largest, full-service commercial real estate company in South Florida.
Bush served as Florida's secretary of commerce under Bob Martinez, Florida's 40th governor. As secretary of commerce, he promoted Florida's business climate worldwide. Following an unsuccessful bid for governor in 1994, Bush founded the nonprofit Foundation for Florida's Future, which joined forces with the Urban League of Greater Miami to establish one of the state's first charter schools. He also co-authored Profiles in Character, a book profiling 14 of Florida's civic heroes– people making a difference without claiming a single news headline.
After his election, Bush focused on reforming education. Florida students have made the greatest gains in achievement and Florida is one of a handful of states that have narrowed the achievement gap. In addition, Bush cut taxes every year during his tenure as governor and Florida led the nation in job growth seven out of eight years. Bush put Florida on the forefront of consumer healthcare advances by signing Medicaid reform legislation "Empowered Care" in June 2006.
Before running for the Republican presidential nomination in June of 2015, Bush led his own successful consulting business, Jeb Bush and Associates, whose clients ranged from small technology start-ups to well-known Fortune 500 companies. He currently serves as the chairman of the Foundation for Excellence in Education, a national foundation focused on education reform, and was the co-chairman of the Barbara Bush Foundation for Family Literacy and chair of the National Constitution Center. He is the co-author of Immigration Wars: Forging an American Solution (March 2013) and author of Reply All (October 2015).
Bush is the son of former President George H.W. Bush and Barbara Bush. He lives in Miami with his wife Columba, and they have three children and four grandchildren.
Michael Doyle
University Professor and Director of Columbia Global Policy Initiative, Columbia University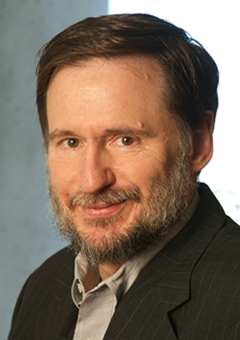 Michael Doyle is a University Professor at Columbia Law School. He is a renowned scholar of global constitutionalism and areas relating to international affairs.
Doyle served as a lecturer in international studies at the University of Warwick, United Kingdom, from 1975 to 1976. He then went on to work as an assistant professor of public and international affairs at the Woodrow Wilson School at Princeton University from 1977 to 1984. He went on to serve as first assistant and then associate professor of political science at Johns Hopkins University until 1987. He returned to Princeton following his time at Johns Hopkins, ascending from associate professor to professor and then, finally, Edwards S. Sanford Professor of Politics and International Affairs by 2003.
Doyle served as vice president of the International Peace Academy from 1993 to 1994; director of the Center of International Studies at Princeton from 1997 to 2001; assistant secretary-general and special adviser to United Nations Secretary-General Kofi Annan from 2001 to 2003.
In 2001, he was elected a fellow of the American Academy of Arts & Sciences. He delivered a series of Tanner Lectures at Princeton in November 2006 on preventive self-defense.
In 2009, he was elected to American Philosophical Society and received the Charles Merriam award of the American Political Science Association. He was a recipient of the Hubert Humphrey award of the American Political Science Association in 2011 and inducted into American Academy of Political and Social Science in 2012. He was appointed member and chair of the board of the United Nations Democracy Fund in 2006, ending his tenure in 2013.
In 2013, Doyle was appointed director of the Columbia Global Policy Initiative and serves as a co-director of its International Migration project. 
In 2015, Doyle helped develop the Model International Mobility Convention which represents a shared framework among over 40 academics. It serves the ambitious goal of creating a holistic, rights-respecting governance regime for all aspects of international migration, filling in the gaps in the existing international legal regime and expanding protections where needed.
Doyle received an honorary LL.D. at the University of Warwick and his Ph.D. and B.A. from Harvard University.
Dau Jok
C'14, Founder of the DUT Jok Youth Foundation
Dau Jok, graduated from the University of Pennsylvania, School of Arts and Sciences in 2014; and also graduated from Goldsmiths, University of London in 2016 with an MSc in Global Leadership. He played professional basketball in English Basketball League while pursuing his master's. Jok is an Out-of-School Time (OST) Enrichment Coach for the State Public Policy Group (SPPG) in Des Moines, Iowa. He currently serves as an Engineer Platoon Leader in the United States Army Reserves as a First Lieutenant. Jok won a $35,000 grant from the National Endowment for Democracy to lead the South Sudanese Leadership Initiative: a program that educated youth on leadership, governance, reconciliation, and professional development. He is also currently pursuing a PhD in Education at Drake University in Des Moines, Iowa.
Dau Jok is an innovative philanthropist, optimistic leader, strategist, and non-profit director. Mr. Jok currently serves as the OST (Out of School Time) Enrichment Coach for the State Public Policy Group (SPPG) in Des Moines, IA. He assists programs like the Boys and Girls Club improve the quality of activities, programming, and incorporating STEM.
He previously worked at Oakridge Neighborhood as Coordinator for the 2017 Summer Youth Employment Program—leading high school students through leadership training and enrichment program. Mr. Jok previously created a competitive analysis and strategic outreach plan for Goodwill Industries of Central Iowa as a contractor.
Mr. Jok is an Officer in the United States Army Reserves, and runs an international non-profit, the Dut Jok Youth Foundation, named after his father. The foundation has reached more than 2,100 youth in the United States, Uganda, and South Sudan through recreational ports, education, and leadership training.  The foundation received a $35,000 grant from the National Endowment for Democracy in 2016 to carry out a leadership program in South Sudan.
Mr. Jok holds a Bachelor of Arts in Philosophy from the University of Pennsylvania and a Master's of Science in Global Leadership from Goldsmiths, University of London.
Anne C. Richard
Former U.S. Assistant Secretary of State for Population, Refugees, and Migration (2012-17)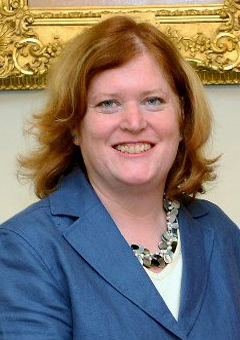 Anne C. Richard served as Assistant Secretary of State for Population, Refugees and Migration in the Obama Administration (2012-2017).  Previously, she was Vice President of Government Relations and Advocacy for the International Rescue Committee (2004-2012).  
In addition to the State Department, she served at Peace Corps Headquarters and the US Office of Management and Budget earlier in her career.  She has enjoyed fellowships from the Council on Foreign Relations and the Robert Bosch Foundation and joined the US government as a Presidential Management Intern.
Ms. Richard is a graduate of Georgetown University's School of Foreign Service and has a Master's degree in Public Policy Studies from the University of Chicago. Since leaving office in January, 2017, she has been named a Centennial Fellow and taught at Georgetown University (Spring Semesters 2017 and 2018) and has thoroughly enjoyed serving as a visiting fellow at the University of Pennsylvania's Perry World House (Spring and Fall 2017).