2013 The Silfen Forum
"Open Learning and the Future of Higher Education"
Is a game-changing revolution afoot in higher education?
The global demand for a highly educated work force continues to grow, yet many students are finding it increasingly difficult to afford the cost of obtaining a college degree. Total student loan debt in the United States now surpasses credit card debt nationwide. Questions of access and equity in higher education appear daily in news coverage, political discussion, and public debate.
With the ubiquity of high-speed internet and wireless mobile technology, colleges and universities are beginning to explore the potential of massive open online courses—better known as MOOCs—to address these issues. Our nation's colleges and universities play a vital role in discovery and creating new knowledge, developing biomedical and technological innovations, fostering new lines of inquiry in the sciences, arts, and humanities, while passing on our social and scientific heritage through direct instruction of students in the classroom. The evolution of high-quality massive online learning that can be delivered at a low cost per student presents both exciting opportunities and challenging questions for higher education.
Can colleges and universities effectively pursue massive online learning while maintaining their core academic missions? Issues surrounding the quality of courses, their cost effectiveness, student learning outcomes, credentialing, and equal access to education have provoked a spirited and evolving international debate. Who will be the winners and losers in the world of massive online learning—or might this be a win-win situation for everyone?
2013 Panelists
The panelists of this David & Lyn Silfen University Forum include Amy Gutmann, Thomas L. Friedman, Martha J. Kanter, William E. Kirwan and Daphne Koller. Please see their biographies below.
Amy Gutmann, moderator
President and Christopher H. Browne Professor of Political Science in the School of Arts and Sciences and Professor of Communication in the Annenberg School for Communication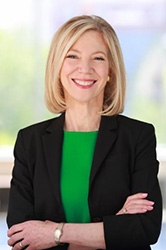 As the 8th President of the University of Pennsylvania (2004— ), Dr. Amy Gutmann is a national leader in increasing access to higher education and integrating knowledge to maximize creativity and innovation. Dr. Gutmann developed Penn's no-loan guarantee for undergraduates, which has become a national model. She has dramatically expanded Penn's contribution to employment, innovation, and economic development in the city and state and pushed Penn to the forefront in civic engagement, exemplified by the creation of Penn Park, a 24-acre urban oasis connecting the campus to the city which opened in 2011.
Under Dr. Gutmann's leadership, the University completed its largest, most successful campaign ever, Making History, and has dramatically broken down barriers across academic disciplines, invigorating the intellectual climate for both faculty and students.
She has published widely on the value of education and deliberation in democracy, on the importance of access to higher education and health care, and on the essential role of ethics—especially professional and political ethics—in public affairs. She continues to be an active scholar as Penn's President, publishing her sixteenth book, The Spirit of Compromise: Why Governing Demands It and Campaigning Undermines It (with Dennis Thompson) in May 2012.
Dr. Gutmann is a founding member of the Global Colloquium of University Presidents, which advises the Secretary General of the U.N. on a range of issues, including the social responsibility of universities. Gutmann has won the Harvard University Centennial Medal (2003), Carnegie Corporation Academic Leadership Award (2009), and was named by Newsweek one of "150 Women Who Shake the World" (2011). She is an elected member of the American Philosophical Society, the American Academy of Arts and Sciences, the National Academy of Education, and is a W.E.B. DuBois Fellow of the American Academy of Political and Social Science. In May 2012, she received an honorary Doctor of Laws from Columbia University.
Appointed in 2009 by President Barack Obama, Dr. Gutmann chairs the Presidential Commission for the Study of Bioethical Issues. She also serves on the National Commission on the Humanities and Social Sciences and the Boards of the National Constitution Center, the Carnegie Corporation and the Vanguard Group.
Dr. Gutmann graduated magna cum laude from Harvard-Radcliffe College, earned her master's degree in Political Science from the London School of Economics, and her doctorate in Political Science from Harvard.
Thomas L. Friedman
Foreign Affairs Columnist, New York Times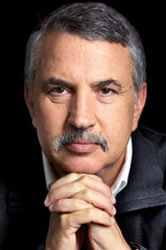 Thomas Friedman was born in Minneapolis on July 20, 1953. After finishing high school in Minneapolis, he attended Brandeis University, where he graduated Summa Cum Laude in 1975 with a degree in Mediterranean Studies. During his undergraduate years, he spent semesters abroad at the Hebrew University of Jerusalem and the American University in Cairo. After completing his B.A., Mr. Friedman attended St. Antony's College, Oxford University, on a Marshall Scholarship. In 1978, he received a Masters degree in Modern Middle East Studies from Oxford and immediately thereafter joined the London Bureau of United Press International (UPI). Mr. Friedman spent a year in London doing general assignment reporting before being dispatched to Beruit as a UPI correspondent.
He lived in Beirut from June 1979 to May 1981, when he was hired by The New York Times and brought back to New York. From May 1981 to April 1982, Mr. Friedman worked as a general assignment financial reporter for The New York Times, based in New York. He specialized in OPEC and oil-related news. In April 1982, he was assigned by The New York Times to be its Beirut Bureau Chief, a post he took up six weeks before the Israeli invasion.
In June 1984, Mr. Friedman was transferred to Jerusalem, where he served as The Times' Israel bureau chief until 1988. After being awarded a Guggenheim Foundation Fellowship to write a book about his reflections on the Middle East. In June 1989, he published From Beirut to Jerusalem, which was on The New York Times Best Sellers list for nearly 12 months and won the 1989 National Book Award for non-fiction and the 1989 Overseas Press Club Award for the Best Book on Foreign Policy. From Beirut to Jerusalem has been published in more than 20 languages, including Japanese and Chinese, and is now used as a basic textbook on the Middle East in many high schools and universities. For his coverage of the Middle East, Mr. Friedman was awarded the 1983 Pulitzer Prize for International Reporting (from Lebanon) and the 1988 Pulitzer Prize for International Reporting (from Israel). In 2012, Friedman updated From Beirut to Jerusalem with a new preface and afterward.
In January 1989, Mr. Friedman accepted a new assignment in Washington as The Times' Chief Diplomatic Correspondent. For the next four years he traveled some 500,000 miles covering Secretary of State James A. Baker III and the end of the cold war. In November 1992, Mr. Friedman shifted to domestic politics and was appointed Chief White House correspondent. He covered the transition and first year of the Clinton Administration. In January 1994, Friedman shifted again, this time to economics, and became The Times' International Economic Correspondent, covering the nexus between foreign policy and trade policy. In January 1995, Mr. Friedman became The New York Times Foreign Affairs Columnist. In 1998, Mr. Friedman wrote text to accompany Micha Bar-Am's photographs for the book, Israel: A Photobiography, published by Simon & Schuster.
His book, The Lexus and The Olive Tree: Understanding Globalization, issued by Farrar Straus and Giroux in 1999, won the Overseas Press Club Award for best nonfiction book on foreign policy in 2000. It has been published in 27 foreign languages. FSG published his bestseller, Longitudes and Attitudes: Exploring the World After September 11, in 2002 and his international bestseller, The World Is Flat: A Brief History of the 21st Century, in 2005.
His latest bestseller, Hot, Flat and Crowded: Why We Need a Green Revolution — and How It Can Renew America, was published in September 2008. He currently is writing a book with Michael Mandelbaum, to be published in September of 2011, about the major challenges facing the United States, the reason the country is not addressing those challenges effectively, and the policies America needs to adopt to ensure prosperity at home and strength abroad in the 21st century. The title will be That Used to Be Us: How America Fell Behind in the World It Invented and How We Can Come Back.
In the months following 9/11, his Op-Ed page coumn for The New York Times provided the clarifying, evenhanded assessments that were so urgently sought. In awarding him his third Pulitzer Prize (the 2002 award for Distinguished Commentary), the Pulitzer Board cited "his clarity of vision, based on extensive reporting, in commenting on the worldwide impact of the terrorist threat."
In 2004 Friedman was also awarded the Overseas Press Club Award for lifetime achievement as well as the honorary title, Order of the British Empire (OBE), by Queen Elizabeth II. The Wall Street Journal ranked Friedman the second most influential business thinker in 2008 and U.S News and World Report named him one of "America's Best Leaders."
Mr. Friedman is a frequent guest on programs such as Meet The Press, Morning Joe and Charlie Rose. His TV documentaries, Searching for the Roots of 9/11, The Other Side of Outsourcing, Straddling the Fence and Addicted to Oil, have aired on the Discovery Channel.
Mr. Friedman lives in Bethesda, Md., with his wife, Ann, and their two daughters. He is a member of the Board of Trustees of Brandeis University and, since 2005, the Board of the Pulitzer Prizes. He served as a Visiting Lecturer at Harvard University in 2000 and 2005 and has been awarded honorary degrees from Brandeis University, Macalester College, Haverford University, the University of Minnesota, Williams College, Rensselaer Polytechnic Institute, Washington University in St. Louis and Hebrew Union College.
Martha J. Kanter
Under Secretary, U.S. Department of Education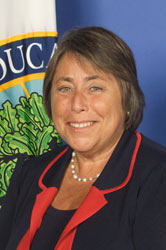 The Honorable Martha J. Kanter was nominated by President Barack Obama on April 29, 2009 to be the under secretary of education and was confirmed by the Senate on June 19, 2009. Kanter reports to Secretary of Education Arne Duncan and oversees policies, programs, and activities related to postsecondary education, adult and career-technical education, federal student aid, and five White House Initiatives on Asian Americans and Pacific Islanders, Educational Excellence for Hispanics, Historically Black Colleges and Universities, Tribal Colleges and Universities, and Faith-Based and Neighborhood Partnerships.
To spur education, economic growth and social prosperity, Kanter is charged with planning and policy responsibilities to implement President Obama's goal for the U.S. to have "the best educated, most competitive workforce in the world by 2020" as measured by the proportion of college graduates over the next decade. Under Secretary Kanter and her team are keenly focused on improving college access, affordability, quality, and completion to implement President Obama's American Graduation Initiative.
In her first two years as under secretary, the successful implementation of the Direct Student Loan program resulted in a 50-percent increase in college enrollment, growing from 6 to 9 million students today who are Pell Grant recipients. Kanter and her team are working closely with postsecondary partners from across the nation to boost American innovation and competitiveness with an ambitious college completion agenda, teacher quality reforms, adult education program improvements, modernization of career-technical education, and a new partnership with the U.S. Department of Labor that has announced the first $500 million of a $2 billion federal investment to increase quality, graduation, and employment opportunities for community college students.
From 2003 to 2009, Kanter served as chancellor of the Foothill-De Anza Community College District, one of the largest community college districts in the nation, serving more than 45,000 students with a total budget of approximately $400 million. She is the first community college leader to serve in the under secretary position. In 1977, after serving as an alternative high school teacher in Massachusetts and New York, she established the first program for students with learning disabilities at San Jose City College (Calif.). She then served as a director, dean and subsequently vice chancellor for policy and research for the California Community Colleges Chancellor's Office in Sacramento. In 1990, she returned to San Jose City College as vice president of instruction and student services until she was named president of De Anza College in 1993, serving in this position for a decade until her appointment as chancellor.
Kanter has been recognized for her work numerous times, including being named Woman of the Year by the 24th Assembly District, Woman of Achievement by San Jose Mercury News and the Women's Fund, and Woman of the Year for Santa Clara County by the American Association of University Women. In 2003, she received the Excellence in Education award from the National Organization for Women's California Chapter. In 2006, she was honored for diversity and community leadership by the Santa Clara County Commission on the Status of Women, and in 2007, the American Leadership Forum-Silicon Valley honored her with the John W. Gardner Leadership Award. In 2008, Kanter received the Citizen of the Year award from the Cupertino Chamber of Commerce.
In 2009, Notre Dame High School in Silicon Valley honored her with the "Woman of Impact" award and, in 2010, Junior Achievement of Silicon Valley and Monterey Bay nominated her for the Business Hall of Fame. In 2011, Kanter was appointed to the U.S. National Commission for the United Nations Educational, Scientific, Cultural Organization (UNESCO), a federal advisory committee to the Department of State that supports worldwide humanitarian development and values by coordinating efforts and delivering expert advice on issues of education, science, communications and culture.
Under Secretary Kanter holds a doctorate in organization and leadership from the University of San Francisco. Her dissertation addressed demographic, institutional, and assessment factors affecting access to higher education for underrepresented students in California's community colleges. In 1994, she opened the first Advanced Technology Center in California's community college system and promoted local and state policies to advance Foothill-De Anza's legacy of excellence and opportunity for California's expanding and increasingly diverse student population.
Kanter received her master's degree in education with a concentration in clinical psychology and public practice from Harvard University, and a bachelor's degree in sociology from Brandeis University. Kanter holds honorary degrees from Palo Alto University, Chatham University, Lakes Region Community College, Moraine Valley Community College and the Alamo Colleges.
William E. Kirwan
Chancellor, University System of Maryland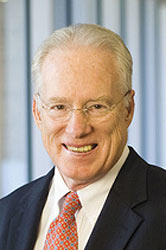 William E. Kirwan, Chancellor of the University System of Maryland since August 1, 2002, is a nationally recognized authority on critical issues shaping the higher education landscape. He served as President of Ohio State University for four years (1998-2002) and President of the University of Maryland, College Park for 10 years (1988-1998). Prior to his presidency, he was a member of the University of Maryland faculty for 24 years.
A respected academic leader, Dr. Kirwan is a sought-after speaker on a wide range of topics, including diversity, access and affordability, cost containment, innovation, higher education's economic impact, gender equity, and financial aid. Along with his national and international presentations on key issues, Dr. Kirwan has authored many articles on issues in higher education and has been profiled and cited in academic and mainstream publications.
Currently, Dr. Kirwan chairs the National Research Council Board of Higher Education and Workforce, chairs the College Board Advocacy & Policy Center Advisory Committee, and co-chairs the Knight Commission on Intercollegiate Athletics. He also serves on the Business-Higher Education Forum.
In Maryland, Dr. Kirwan co-chairs the Governor's P-20 STEM Task Force and is a member of the Governor's International Advisory Board and the Maryland Economic Development Commission. He also is a member of the boards of the Maryland Chamber of Commerce, Greater Baltimore Committee, Economic Alliance of Greater Baltimore, and the Maryland Business Roundtable for Education. In 2007, Dr. Kirwan became the 16th recipient of the Maryland House of Delegates Speakers' Medallion in recognition of his service to the House and to the State of Maryland. He also received the Maryland Senate's First Citizen Award in 1998, in recognition of his commitment and service to the state.
In 2012, the Maryland Chamber of Commerce presented Dr. Kirwan with its second annual Maryland Public Service Award. In 2010, Dr. Kirwan was appointed to the National Advisory Committee on Institutional Quality and Integrity, or NACIQI. The group serves in an advisory capacity to the U.S. Secretary of Education on accreditation issues and certification processes for colleges and universities. He was also in 2010 named chair of the College Board Advocacy and Policy Center Advisory Committee.
Dr. Kirwan is a past board chair of the National Association of State Universities and Land-Grant Colleges and of the American Council on Education. He was appointed by President Clinton to serve as a member of the National Commission on Mathematics and Science Teaching for the 21st Century and chaired the National Research Council's Commission on the Mathematical Sciences in the Year 2000, which produced the report titled Moving Beyond Myths: Revitalizing Undergraduate Mathematics, National Academy Press (1991). President Bush appointed Dr. Kirwan to the Board of Advisors on Historically Black Colleges and Universities in 2000.
Dr. Kirwan is the winner of the 2010 TIAA-CREF Theodore M. Hesburgh Award for Leadership Excellence. Considered one of the nation's top higher education honors, this award recognizes leadership and commitment to higher education and contributions to the greater good.
In 2009, he received the Carnegie Corporation Leadership Award, which included a $500,000 grant to fund USM academic priorities. The prestigious award recognizes higher education leaders who have demonstrated a commitment to excellence in several areas, including undergraduate education (teaching and research) and outreach to communities. In 2002, Dr. Kirwan was elected to the American Academy of Arts and Sciences.
Other recent awards include the 2008 Reginald H. Jones Distinguished Service Award from the National Action Council for Minorities in Engineering (NACME). The award honors individuals who have made significant contributions to increasing the representation of minorities in STEM (science, technology, engineering, and math) careers.
Dr. Kirwan is a member of several honorary and professional societies, including Phi Beta Kappa, Phi Kappa Phi, the American Mathematical Society, and the Mathematical Association of America. A prolific scholar, he is co-editor of the book Advances in Complex Analysis and has published many articles on mathematical research.
Dr. Kirwan received his bachelor's degree in mathematics from the University of Kentucky and his master's and doctoral degrees in mathematics from Rutgers, The State University of New Jersey, in 1962 and 1964 respectively.
Daphne Koller
Co-Founder and co-CEO, Coursera; Professor of Computer Science, Stanford University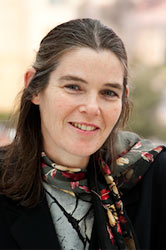 Daphne Koller is the co-founder of Coursera, a social entrepreneurship company that works with top universities to make the best education accessible to everyone around the world, for free.
Coursera was started in January 2012, and a year later, has 62 top university partners from around the world who offer over 300 courses that span a range of topics including computer science, business, medicine, science, humanities, social sciences, and more. Over 2.8 million students from 196 countries have enrolled for Coursera classes.

Koller is also the Rajeev Motwani Professor in the Computer Science Department at Stanford University where she works in the area of machine learning and probabilistic modeling, with applications to systems biology and personalized medicine. She is the author of over 200 refereed publications in venues that span a range of disciplines, and has given over a dozen keynote talks at major conferences.
Koller is the recipient of numerous awards, which include the Presidential Early Career Award for Scientists and Engineers (PECASE), the MacArthur Foundation Fellowship, the ACM/Infosys award, and membership in the National Academy of Engineering. She is also an award winning teacher, who pioneered in her Stanford class many of the ideas that underlie the Coursera user experience.

She received her BSc and MSc from the Hebrew University of Jerusalem, and her PhD from Stanford in 1994.